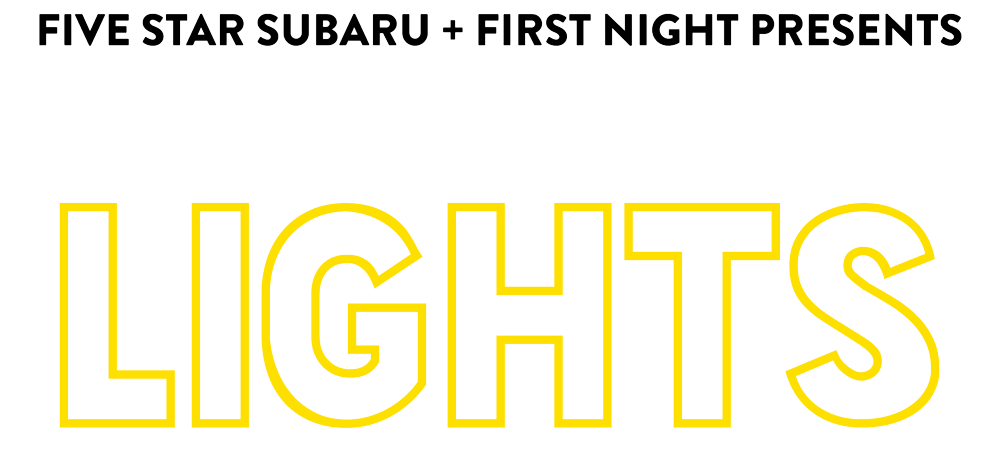 Welcome
First Night and Five Star Subaru present the drive through Oneonta Festival of Lights Saturday, December 18th through Saturday, January 1st.
On opening night, December 18th from 5pm-8pm there will be a special pedestrian area featuring Santa and live entertainment by Cosmic Karma Fire, Mike the Juggler, DrumQuest and the Hill City Ice Queen and Friends!
All First Night events are alcohol free, admission free and family friendly because of our wonderful community sponsors. If you see them please thank them for us!
Sponsors: Five Star Subaru, LEAF, Inc., The City of Oneonta, Anonymous Foundation, The Dewar Foundation, Nellie and Robert Gipson, Anonymous Foundation, Cleinman Charitable Trust, Corning Incorporated, The Price Chopper Golub Foundation, Otsego County Board of Representatives, Walmart Community Grants, Stewarts Shops, Benson Agency Real Estate, Silver Dollar Optical, Clark Companies, Community Bank, Brooks BBQ, Delaware Engineering, Delaware National Bank of Delhi, Bank of Cooperstown, Eastman Associates, Fenimore Asset Management, Clark Companies, Ioxus, Lawson Surveying and Mapping, NYCM Insurance, Leatherstocking Credit Union, NBT Bank, The Oneonta Police Benevolent Association, Sidney Federal Credit Union, Gates Helms Hawn, Stanley and Joan Fox, Steven Z. Feuer, Kelly M. Eckmair, Joe and Lucy Bernier, Tom Morgan and Erna MacReynolds and David and Marge Merzig