Countdown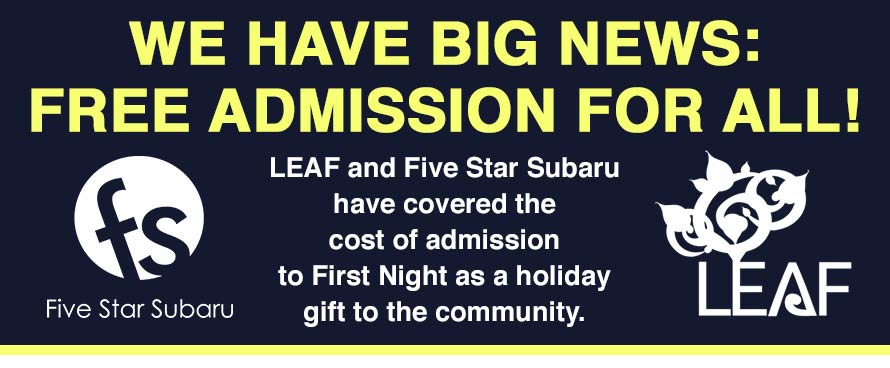 Welcome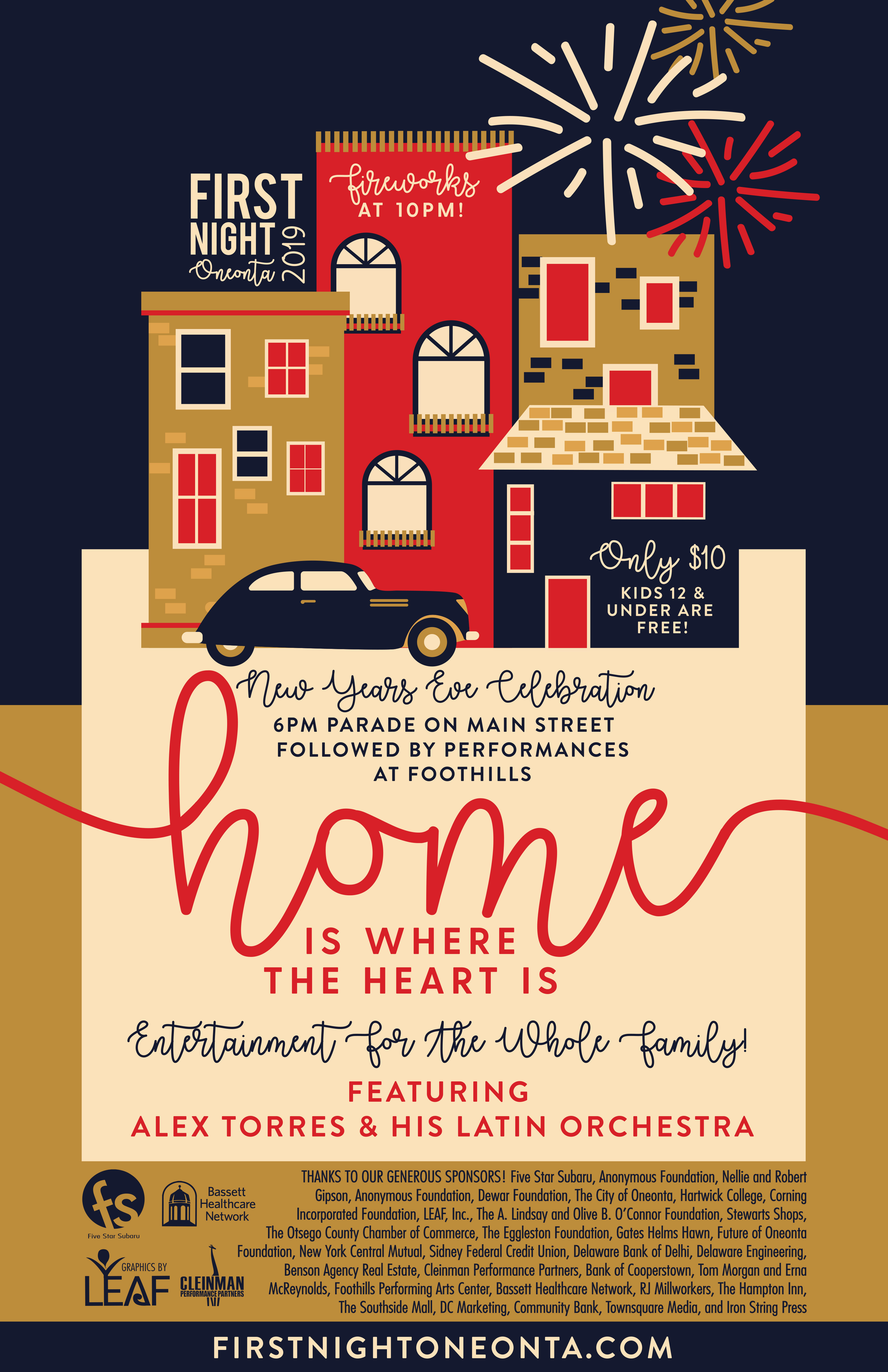 BREAKING NEWS: ADMISSION FREE FIRST NIGHT!!!
We are thrilled to announce that LEAF and Five Star Subaru have joined together to cover admission costs for all to First Night Oneonta's alcohol free, family friendly New Years Eve Celebration at the Foothills!!
LEAF and Five Star Subaru will be offering this holiday gift to the community to ensure that everyone has a safe and sober New Years Eve. Five Star is committed to keeping people safe on the roadways and LEAF's mission is to help people avoid all the problems surrounding addiction. Thank you LEAF and Five Star Subaru for everything you do for our community and for First Night Oneonta!
First Night Oneonta's 2019
New Year's Eve Celebration is on the theme
"Home is Where the Heart is!"
Come to
FIRST NIGHT ONEONTA'S NEW YEARS EVE CELEBRATION
at the Foothills Performing Arts Center. 
This year's theme is Home is Where the Heart is!! Join First Night Oneonta at the Foothills Performing Arts Center at 5 pm for a pre-parade pizza party! At 6 pm the PARADE down Main Street begins at Foothills and returns to Foothills so that everyone can stay nice and warm! At 6:30 a full night of fabulous entertainment begins in the Foothills Atrium and on the Main Stage, followed by: Fabulous FIREWORKS at 10 pm followed by a FREE fireworks after-party in the Atrium featuring Uncle John and the Turtle! Our headliners this year are the award winning 12 piece Latin band, ALEX TORRES AND HIS LATIN ORCHESTRA!
The evening's ENTERTAINMENT includes:

Alex Torres and His Latin Orchestra
Words for the New Year Poetry Readings' at 5 pm on the Main Stage
Mike the Juggler
Cosmic Karma Fire
Jillian's Dance Arts
Brian Miller Magic
Stanley Wade School of Dance
Donna Decker Ballet
Hill City Ice Queen and Friends
Elite Dance Academy Kids Music with Pam West-Finkle
Harmony Martial Arts
Northside Swiss
Doreen and the Soul Survivors
DJ Justino
Balloons with BJ the Clown
Kids activities with OWL
Face Painting with LEAF and more!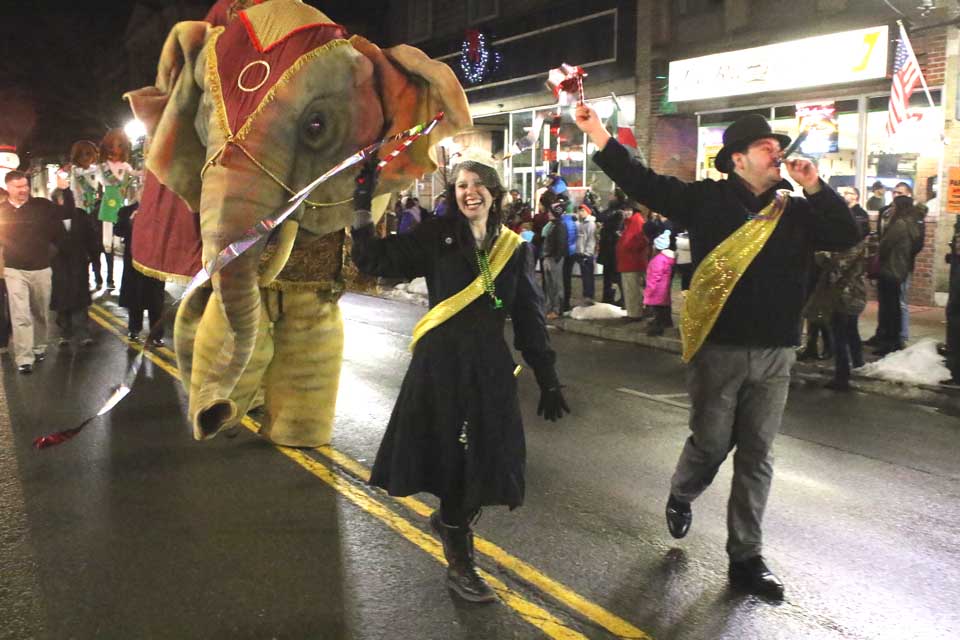 Photo by Jim Kevlin. For more photos of the parade visit the
Hometown Oneonta website! Click Here!
Bring the family and enjoy a fantastic night of New Year's fun at FIRST NIGHT ONEONTA'S NEW YEAR'S EVE AT THE FOOTHILLS!! Buttons are available all over town or at the door. 
Follow us on Facebook at:
THANK YOU TO OUR WONDERFUL SPONSORS!
Five Star Subaru
LEAF, Inc.
Anonymous Foundation
Nellie and Robert Gipson
Anonymous Foundation
Dewar Foundation
The City of Oneonta
Hartwick College
Corning Incorporated Foundation
The A Lindsay and Olive B. O'Connor Foundation
Stewarts Shops
The Otsego County Chamber of Commerce
Future of Oneonta Foundation
The Eggleston Foundation
Gates Helms Hawn
New York Central Mutual
Sidney Federal Credit Union
Delaware Bank of Delhi
Delaware Engineering
Benson Agency Real Estate
Cleinman Performance Partners
Price Chopper Golub Foundation
Bank of Cooperstown
Tom Morgan and Erna McReynolds
Foothills Performing Arts Center
Bassett Healthcare Network
JR Millworkers
The Hampton Inn
The Southside Mall
DC Marketing Community Bank
Townsquare Media
The Daily Star
Ironstring Press